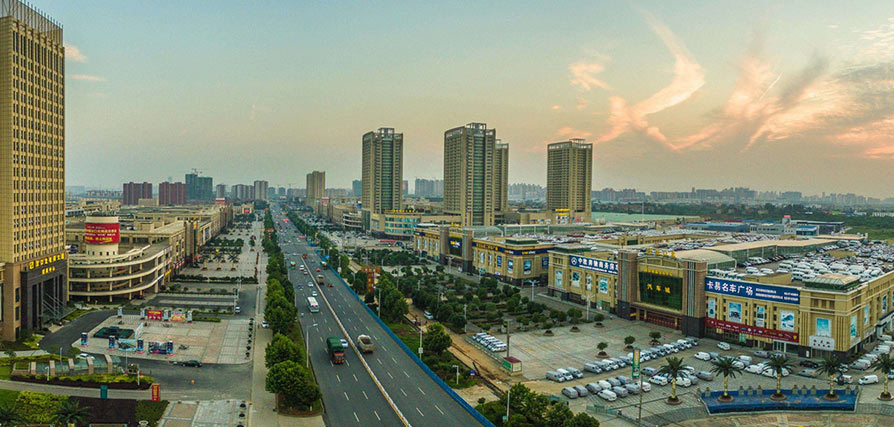 North Hankou International Commodities Trading Center is the largest consumer goods processing, trading and logistics platform in China which provides one-stop service integrating exhibition for trading, warehousing and logistics, finance for E-commerce, office business and processing for various merchants.
Upon eight-year's development, North Hankou has developed into a cluster including 20 large-scale specialized markets, such as shoes, leather products, branded clothes, hotel supplies, small commodities, beddings, light textures, automobiles, hardware and mechanical-electric products, covers over 6 million square meters and has 25,000 active merchants."China North Hankou Commodities Trade Fair" supported by the Ministry of Commerce of PRC attracts a large number of wholesale markets and tens of thousands of merchants every year and is the largest trade fair in middle west of China. In 2015, North Hankou realized total transaction volume of about 50 Billion Yuan. North Hankou is currently the destination of overall relocation of Hanzheng Street market and helping Wuhan develop into a national commerce, trade and logistics center.
North Hankou has second-to-none warehousing, logistics, processing and auxiliary traffic facilities in the real market of China: warehouse center of 2 million square meters, North Hankou Industrial City of 3 million square meters and North Hankou traffic terminal which connects the rail transit lines and has the largest long-distance bus stations in Hubei Province.
Relying on foundations and advantages of the physical business and trade market in property management, clients, logistics and data, North Hankou goes with the development trend of E-commerce and grows into the largest logistics and distribution center of consumer goods and E-commerce integrated development zone, being approved as "National E-commerce Demonstration Base" and "National Pilot Market for Market Procurement Trading Mode".
Based on the foundations and advantages of North Hankou Market in trading, client and logistics, Zall Group successively developed three major E-commerce platforms at the end of 2015: Zallgo, Zalljinfu and Zallsoon, providing online wholesale, procurement management, supply chain finance and logistics information transaction matching for all merchants. As of November 2017, Zallgo broke through 100 Billion Yuan of transaction volume, marking the completion of upgrading of North Hankou from physical market to "Cloud Market", and Zall Group is committed to creating the largest online and offline integrated wholesale transaction platform in China.
As Zall began the development of intelligent business trading ecosystem, became the largest shareholder of cross-border E-commerce platform: LightInTheBox, and established Zall Finance Group since first half of 2016, North Hankou established a smooth cross-border trading passage and has low-cost supply chain financial service at the same time.
In November 2016, Zall Group, along with its nine major trading and service platforms, showed in the Third World Internet Conference and announced its global intelligent trading platform strategy: based on North Hankou offline physical market and so on, various online trading platforms and service chains of Zall group will realize interconnection and collaborative development in the future two or three years and thus form the trillion-level intelligent industrial Internet trading platform.
In September 2016, North Hankou was approved to be the national pilot market for market procurement trading mode by the Ministry of Commerce and other seven ministries and commissions, becoming the only pilot market in middle west of China. North Hankou successively received diplomats from different countries and representatives of international organizations to inspect the market in an all-round way, establishing the bridge of international business and trading exchange and kicking off inviting tens of thousands of merchants from every corner of the world to procure in North Hankou. North Hankou starts to participate in global trading division and the macro-pattern of "buying across China and selling to the whole world".
In the future, on the basis of serving as destination of overall relocation of Hanzheng Street Business, North Hankou will integrate Zall global intelligent trading and service ecosystem, create the bridgehead of exporting of consumer goods of the inland China, make efforts to reach 200 Billion Yuan of transaction volume and enable North Hankou to strike out of Central China, lead business development of China and march into the world.